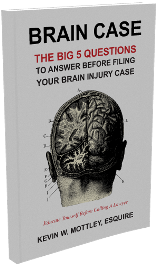 Are you or a loved one suffering from the lingering effects of a traumatic brain injury ("TBI")? Do you have questions about how to obtain compensation for the injury and the effects it has had on your life, or that of a loved one? Do you wonder whether you should "do something" about the situation through the court system? Do you wonder whether you should even contact a lawyer?
Are you an attorney who has been contacted by someone who has, or may have, suffered a traumatic brain injury as the result of someone else's negligence, but you do not handle expensive, time consuming brain injury cases? Are you concerned that this may be a case that is headed to federal court, and you "just don't go there." Do you wonder whether the case you have is a potentially significant case that you do not feel comfortable handling alone against a sophisticated, well-financed, defense firm? (If you are an attorney looking to refer a case to a lawyer who focuses on the handling of traumatic brain injury cases, I encourage you to check out The Mottley Law Firm TBI Referral Program on this website.)
Whether you are a member of the public or a member of the bar, BRAIN CASE: The Big 5 Questions to Answer Before Filing Your Brain Injury Case, is for you. In this informative guide, traumatic brain injury attorney Kevin Mottley reviews the "Big 5" questions that he personally asks before agreeing to represent a person who has suffered from a TBI.
Brain Case addresses and answers many questions that typically arise in brain injury cases, including the following questions:
What is a traumatic brain injury?

How do I prove that I have a TBI?

Do I have a case?

Does it matter that my traumatic brain injury was not diagnosed by a doctor until well-after the accident?

Does it matter that I did not go to the emergency room or take an ambulance to the hospital from the accident scene?

Who is responsible for the medical expenses I have incurred from the accident?

Who is going to pay for all the medical expenses I may have in the future?

Does it matter that, prior to the accident, I had previously suffered one or more traumatic brain injuries? Does that fact prevent me from getting compensation from the person who injured me this time?

What if I did something wrong that contributed to causing the accident? Does that impact whether I have a case?

Is every case involving a traumatic brain injury worth taking to court?

What is the process in court?

How long does the process take?

How much money does the case cost, and do I have to pay those costs?
The thought of going up against a well-financed insurance company in court to obtain compensation for a brain injury is overwhelming and daunting, even for lawyers. Many questions exist for the potential plaintiff. Do I have a case? Does enough medical evidence exist to prove that something is wrong with my brain? How am I going to show that the accident caused my brain injury? And the list goes on and on.
The truth is that not every case involving a possible brain injury should be filed in court. Certain questions are so important that the answers to them determine whether any case should be filed at all. As a brain injury victim or a family member of a brain injury victim, you may have had lawyers rushing to sign you up as a client. It is important not to rush to any decisions, even about hiring a lawyer. The better approach is to take action to get your questions answered, and then make educated decisions about how and whether to proceed with hiring a lawyer or filing a case.
BRAIN CASE is written to give you a simple, straightforward guide to the really important questions to ask and answer before hiring a lawyer and pursuing a court case involving a brain injury. This guide steers the conversation toward the most important questions to answer before coming to the place in your journey where you feel that legal action must be taken.
To have a FREE copy of BRAIN CASE sent to you right away, please provide us with the following information: