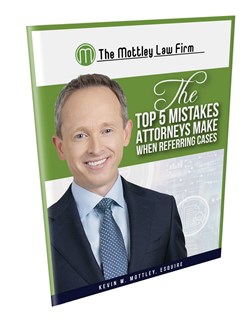 What happens when a client comes to you with a case in a practice area you don't handle? If you send them on their way without connecting them with a skilled attorney who practices in the needed area of law, you and your firm could be missing out on significant opportunities and revenue.
Virginia allows attorneys to share in the fee collected at the conclusion of a case. If you've yet to take advantage of this type of referral arrangement or have had disappointing experiences with referral partnerships in the past, I'm here to help.
My name is Kevin W. Mottley, and referrals are an essential part of what we do here at The Mottley Law Firm. My Richmond-based boutique practice handles personal injury cases involving traumatic brain injuries (TBIs) and mild traumatic brain injuries (MTBIs), many of which are referred to us by trusted colleagues.
Referrals Benefit Everyone
I wrote The Top 5 Mistakes Attorneys Make When Referring Cases to spread the word about how beneficial referrals can be for clients, referring lawyers, and attorneys who accept referred cases. The book contains invaluable information I've amassed throughout my many years of practice, including:
The many benefits of attorney referral relationships

Why—and how—you should consider implementing a referral system at your practice

Common referral mistakes and how to avoid them

And much, much more.
You'll also find extensive information on me, my brain injury practice, our mission, and how you can refer a TBI (or suspected TBI) case to my team. Learn about the devastating effects of these injuries, why brain injury cases require special skill, our proprietary brain injury litigation manual, and the systems we use to keep referring lawyers in the loop and up to speed on the cases they send to us. By the time you finish reading, my hope is that you'll see referrals in a whole new light, and add my firm to your referral network for brain injury cases.
Request an Instant Download of Our Attorney Referral Guide Today!
Complete the contact form on this page to request a complimentary copy of The Top 5 Mistakes Attorneys Make When Referring Cases. You'll receive an email with a link to your instant download. It's that simple!
Fill Out the Form Below to Request Your Guide